The mobile recording studio "Gigant Record" is a professional approach to recording live, or record sound just in the comfort of the customer. The complex was arranged at our studio with the participation of Valery Cherkesov in 2005. With this complex were recorded by the Korn concert, Alexander Marshall, Irina Surina, Nikolay Noskov, Charles Aznaur (concert in Yerevan), Konetz Filma, Comedy Woman, Mystic Rose, 25/17, Oleg Gazmanov and many others. The style of music does not matter, as we already have experience of academic record to the hard alternative music.

Extensive experience in the field of recording and concert activity makes it possible to truly appreciate and take into account all possible difficulties in recording concerts. We also offer mix recorded material at our studio.
Before recording, we will discuss the number of recorded channels (maximum 48), agree on the types and number of microphones necessary for successful entry if they do not have enough, or not at all on the stage, we will be able to take your own. Transportation (Moscow, up to 50 km from the Moscow Ring Road) take over. On site leaves a technician and engineer.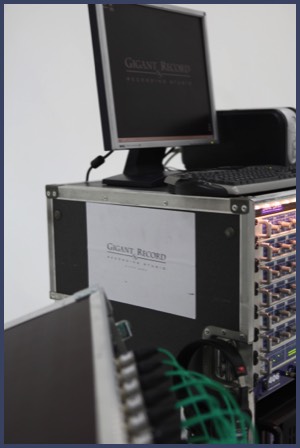 Recording complex consists of two tracks. One rack with recording equipment second - switched, and the third with a passive splitter, if required. A total of 48 channels. Converters RME, PC Windows, Cubase 7. All software license. The equipment is delivered in advance, usually during the sound check. Placed usually behind the stage, but if you want, in any room within a radius of 25 meters from the scene. At the sound check we connect equipment, and record the concert. After recording, we can take over the mixing and mastering of your concert, or give you the tracks on the site or meet with us in the studio to transfer audio files.